Setting the Industry Standards in Quality, Reliability & Performance
About Us
Industry Coatings is a commercial painting company specializing in retail centers, distribution warehousing, professional office complexes, tenant improvements and HOA's.
Our broad range of services include, but are not limited to interior and exterior painting, wall coverings, wall protection, multi-color coatings, graffiti removal, anti-graffiti coatings and power washing.
If you're looking for a company with the knowledge and flexibility to handle complex and challenging projects both large and small, Industry Coatings will be there to meet your needs.
Industry Coatings is licensed, insured and backed with years of experience. We have established ourselves as the contractor of choice for Southern California's top general contractors, property managers and commercial property owners, and we'll work hard to make Industry Coatings your first choice too.
Checkout Our Services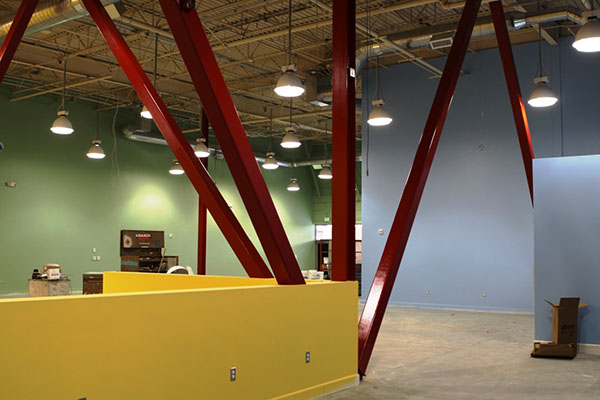 Kraus Construction has enjoyed working with Industry Coatings. Their prices are competitive and workmanship is top quality.
— G. Thien, Project Manager
Services
The commercial painting category covers a broad range of markets and services including interior and exterior painting of professional office complexes, distribution warehousing, retail stores, tenant improvements and more. It is essential that you choose the right painting contractor who can handle your specific needs and safety requirements. Industry Coatings has the knowledge and experience backed by solid references so you can be sure that you are working with a professional commercial painter with a history of high quality work. Some of our services include:
Above Grade Water Repellents
Anti-Graffiti Coatings
Architectural Coatings for Exposed Steel or Sculptures
Color Renderings for Property Managers, Owners & Investors
Dryfall on Exposed Ceilings
Graffiti Removal and Maintenance Programs
Green Environmentally Friendly Painting
High Performance Coatings such as Elastomeric, Epoxy & Polyurethanes
Industrial Facility Maintenance Programs
Joint Caulking
Power Washing Buildings, Dock doors, Trash Enclosures, etc.
Staining, Lacquer & Varnishing
Vinyl Letting for Dock Doors, Man Doors, Fire Riser Rooms, etc.
Wall Coverings
Zolatone & Polymix Multicolor Finishes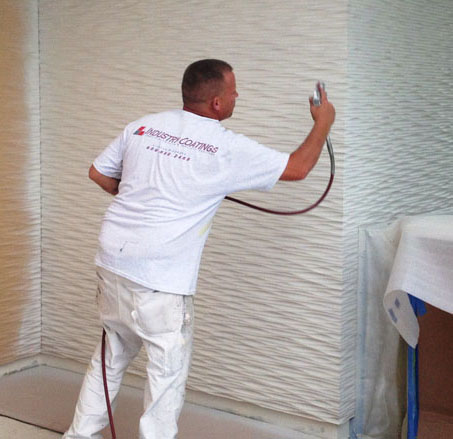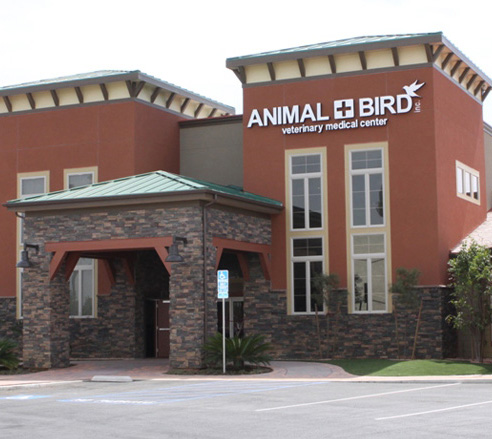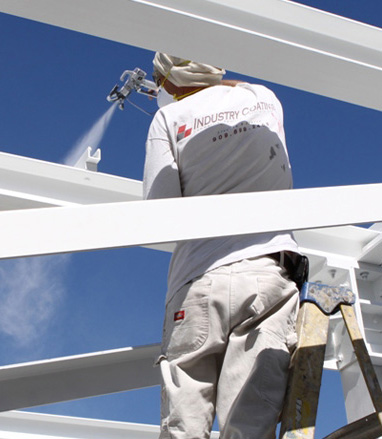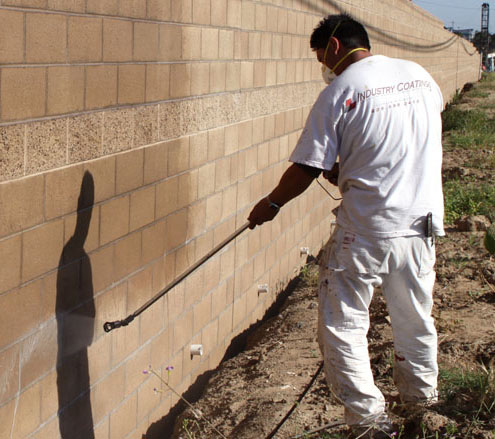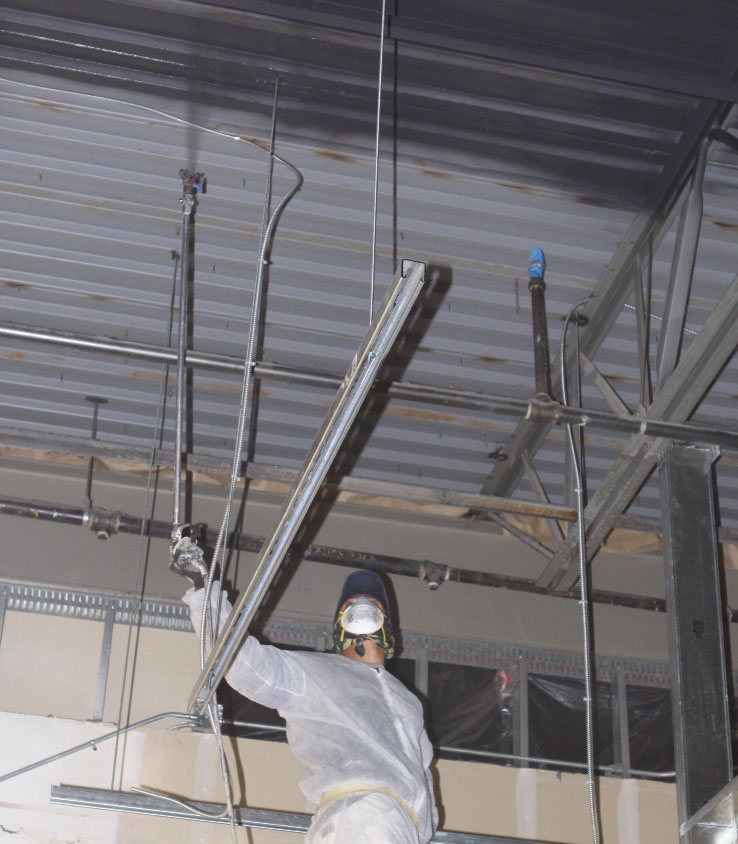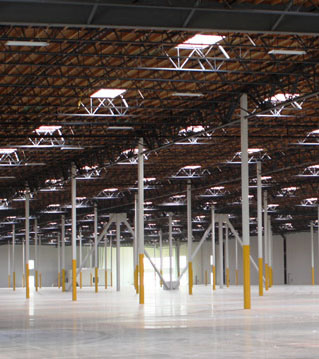 Teamwork
Industry Coatings knows that working as a team with other trades is a must.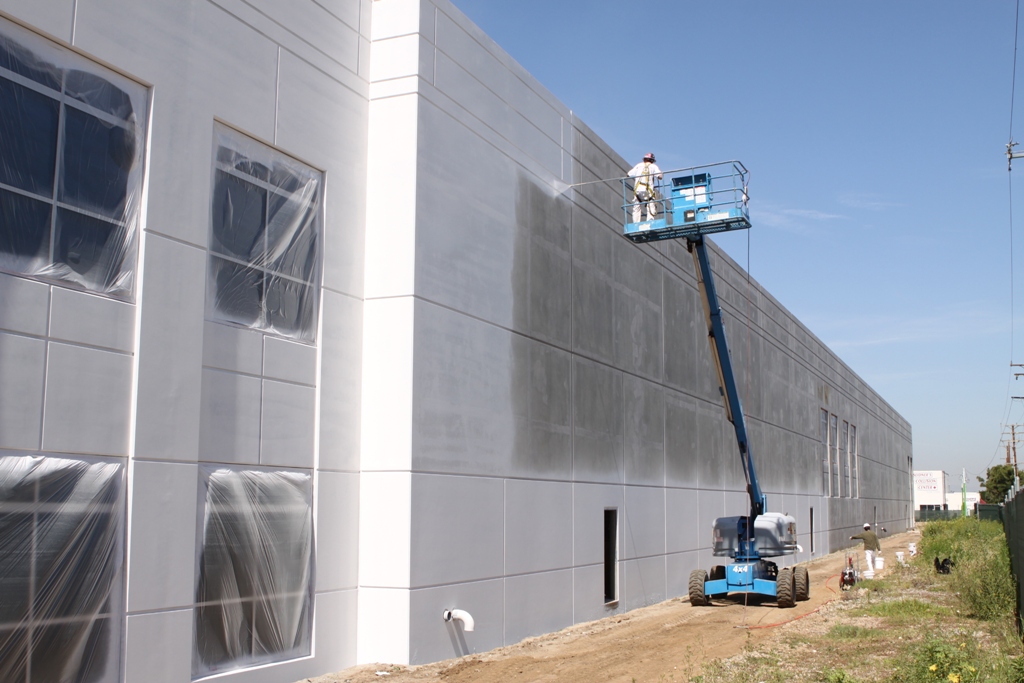 General Contractors
Adhering to schedules, communication and flexibility will ensure your goal of completing "turnkey" projects for your customers on time and within budget. We provide an open communication line with project managers and superintendents, quick turnarounds on color submittals and schedules, and an immediate response to any changes on a project. Our efficiency will be your asset.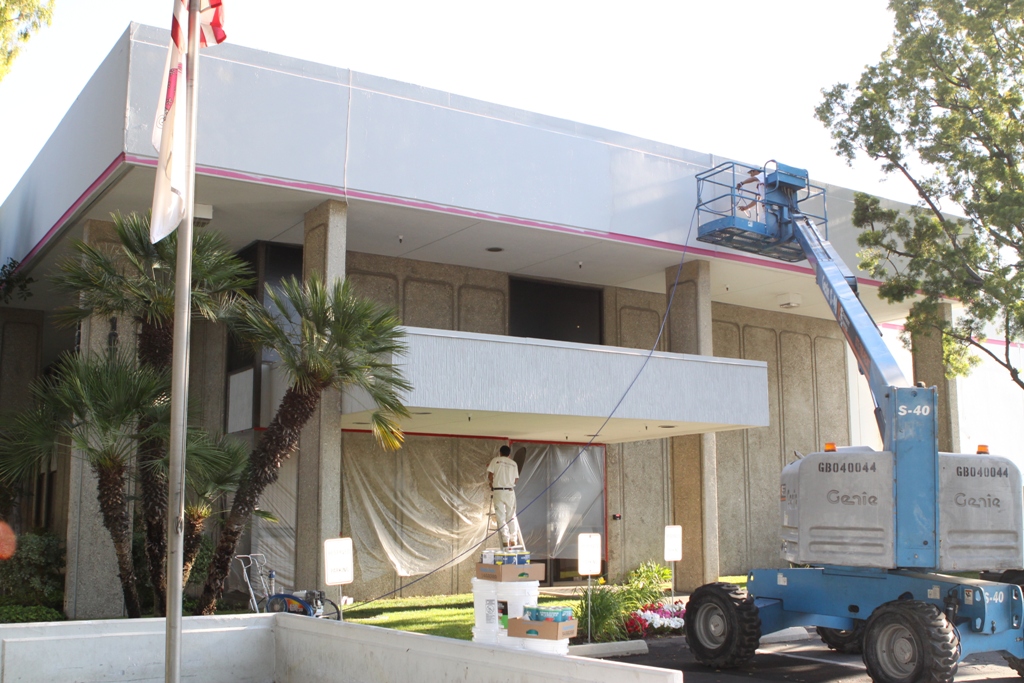 Property Managers / Owners / Investors
Industry Coatings knows that your number one priority is your tenants. We work around their schedules to minimize interference with their daily businesses activities. Working nights and weekends are sometimes the best options to complete a project with as little interruption to the tenant as possible. We provide visual color renderings and will work with you to meet your budget needs.
Safety
At Industry Coatings we evaluate safety every day on each and every project in order to prevent injuries or illness to our valued workforce. Industry Coatings has an extensive IIPP (Injury & Illness Prevention Program) covering everything from the correct work attire, to safe work practices, to emergency procedures.
Prior to the commencement of every job, we take the time to discuss any potential hazards and what we can do as a team to eliminate them. Weekly safety meetings are conducted and documented by our foremen to ensure a safe working environment.
All personnel are trained and certified to operate equipment such as boom and scissor lifts, to ensure your project gets completed in a safe and efficient manner. Industry Coatings is proud to report we have had ZERO accidents or workman compensation claims since the company's inception.